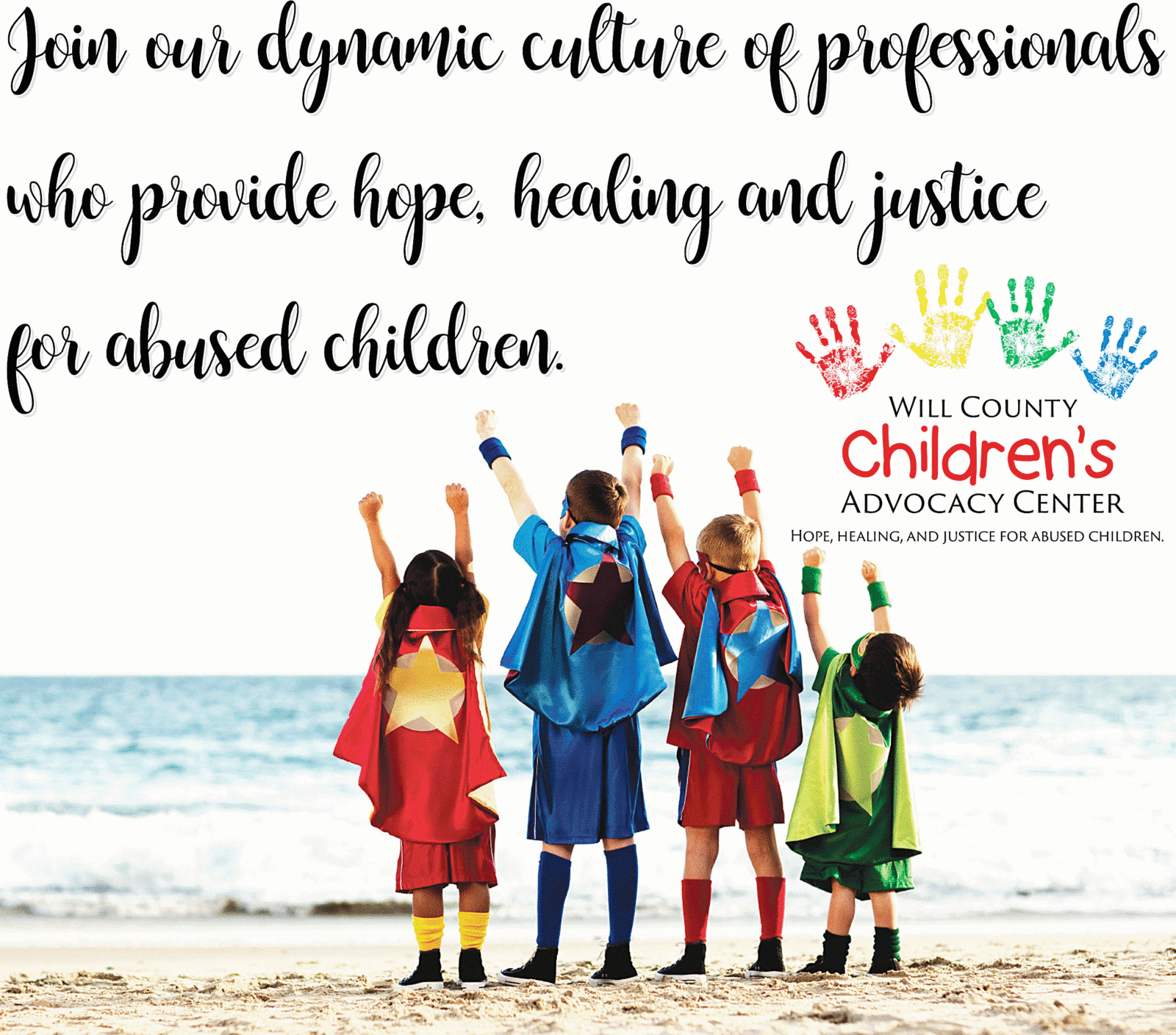 Thank you for your interest in becoming a part of the Will County Children's Advocacy Center's team.  Current full-time, exempt job openings:
NO OPENINGS AT THIS TIME
Culturally diverse and bilingual (English-Spanish) individuals are strongly encouraged to apply. 
TO APPLY: Please send resume and cover letter to lmlas@willcountyillinois.com -- and include the position title in the subject line. NO PHONE CALLS, NO IN-PERSON VISITS. All positions open until filled.
The Will County Children's Advocacy Center was founded by Will County State's Attorney James W. Glasgow in 1995 to provide hope, healing and justice for Will County children and non-offending family members who have endured physical and sexual abuse, exploitation, neglect and exposure to violence.
Salaries and benefits offered are competitive with other private and public sector positions. Employment benefits vary according to full-time or part-time employment status and between employee groups.
Benefits
Wellness Program
Vacation (based on seniority and years of service)
Paid Holidays
Sick Leave
Personal leave
County Retirement Plan
Choice of Two Health Plans
Dental Plan
Vision Plan
Life Insurance
Disability Insurance
Employee Assistance Program
Deferred Compensation (IRS Section 457) - Employee Paid
Other Services Offered
Supplemental Life Insurance
Credit Union
Direct Deposit
Flexible Spending Account
Help us continue to provide hope, healing & justice for abused children.
Last year, the Will County Children's Advocacy Center served more than 700 Will County children (and their non-offending family members) who were sexually abused, severely physically abused, or who had witnessed a violent crime.
Children who have been victimized, and receive services are less likely to: abuse drugs or alcohol, grow up to become victims of domestic violence, become involved in some sort of criminal activity, suffer from depression, anxiety disorders, or post-traumatic stress disorder, and/or develop suicidal ideation and self-harm.
Your financial gift can make a profound difference in changing a child's life.